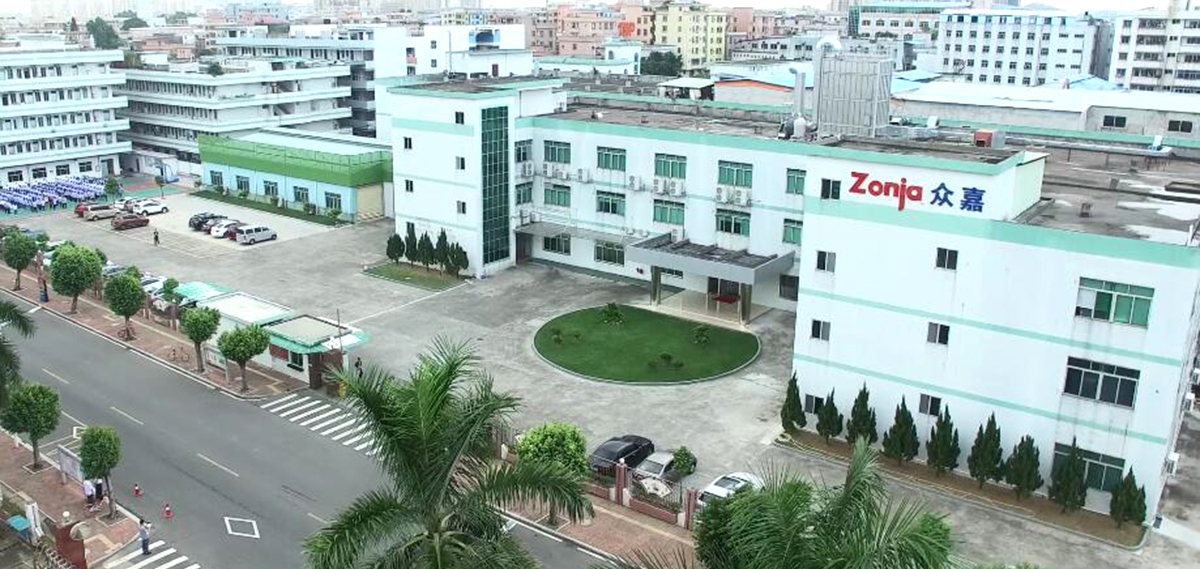 Founded in 2009, Dongguan Zhongjia Printing Co., Ltd. is a professional manufacturer specialized in R&D, production and sales of nameplates, membrane switches, touch panels, self-adhesive labels and die-cutting parts, which has a registered capital of 15 million RMB.
Zhongjia is located in Shijie Town of Dongguan city with plant area of 10,000m2, The advanced environmental protection waste gas treatment and discharge system, standard dust-free workshop and several automatic production lines in printing industry have been established; Main printing methods include: relief printing, planographic printing and screen printing; Major production equipment includes: 8-color high-speed rotary press, label printing machine, screen sheet printing machine, screen coil printing machine, automatic punching machine, die-cutting machine, automatic punch press, CNC engraving and milling machine; Testing equipment includes: automatic barcode testing machine, automatic label testing machine, ROHS/halogen measuring instrument, viscosity testing machine, high and low temperature cycle testing machine, peel force tester, circuit board short circuit tester, water drop angle tester, tape retention testing machine, ink adhesion tester; Quality control systems include: ISO9001 (2015) quality management system, ISO14001 environmental management system, GP chemical substance management system; Product certifications include: UL, PGAA; Credit management systems include: ERP management system, production line MES electronic information management system, OA workflow management system; The application of multiple management systems ensures product quality, quick response and delivery in time. Zhongjia upholds the core values of integrity, cooperation, progress and sharing, we provide customers with high quality products and excellent services.
Zhongjia provides one-stop solutions from adhesive custom to structural design, printing design and technical service. We have successfully applied for a number of patents and selected as a candidate of state high-tech enterprise in 2017, and it is expected to become an identified state high-tech enterprise in 2018; the products cover: 1) Nameplate and panel printing: monthly production capacity is 10 million pieces; 2) Membrane switch: monthly production capacity is 1 million pieces; 3) Touch panel: monthly production capacity is 1 million pieces; 4) Label printing: monthly production capacity is 50 million pieces; 5) Die-cutting parts: monthly capacity is 10 million pieces. Our products are widely used in computers, mobile phones, office equipment, medical equipment, communications equipment, household appliances, industrial touch and other fields. Zhongjia adheres to the policies of quality first, focus on process, continuous improvement and customer satisfaction, uses environmentally friendly materials to manufacture green products, abides by environmental laws and regulations, and provides customer with good products and excellent services. We have established long-term strategic partnership with many well-known domestic and international customers such as HP, Molex, Flextronics, Kyocera, Xinyang Group, Zhending, Primax, VTech, Huawei, OPPO, VIVO, Lenovo and Gree, and got favor and praise from the customers.
Follow Zhongjia's growing steadily, we also use the company platform to develop people who are useful to society, we encourage all employees to establish the concept of proper behaviors and cultivate good deeds, altruistic, hard-working and frugal characters. All leaders take the lead by examples, donate blood voluntarily, participate in community work, donate funds for staff with serious illness, and help those in need. Small act of goodness is similar to great evil, and big act of goodness is similar to merciless. We strictly regulate employees' behaviors at work and requests employees to learn and grow in the work and develop good professionalism continuously. Our employees' professional and operational skills have been improved through training lectures, technical exchanges and skills competitions, we have also established long-term incentive mechanisms and promotion channels to enhance overall quality of all employees.
Looking forward to the future, we will continue to innovate, build on specialty, focus on processes, show inventiveness in manufacturing, strive to create a company that makes employees feel happy, wins supplier trust, customer satisfaction and social appreciation, and achieve sustainable development of the company.
□ In March 2009, Dongguan Zhongjia Printing Co., Ltd. was established.
□ Hong Kong Office was established in May 2009: Hong Kong Phoenix Industrial Co., Ltd.
□ August 2009 passed IS09001:2008 quality system certification
□ September 2009 passed product UL certification
□ March 2010 Establishment of Chemical Substance Management System (ROHS Management System)
□ January 2011 Passed UL Company PGAA Certification
□ March 2012 Import ERP Management System
□ September 2013 passed ISO14001:2004 environmental management system certification
□ May 2014 Established Hardware LOGO Production Line
□ October 2015 import MES system
□ Implementation of Machine Substitution Project in August 2016
□ January 2017 Established Touch Panel Division
□ June 2018 passed IATF16949 certification